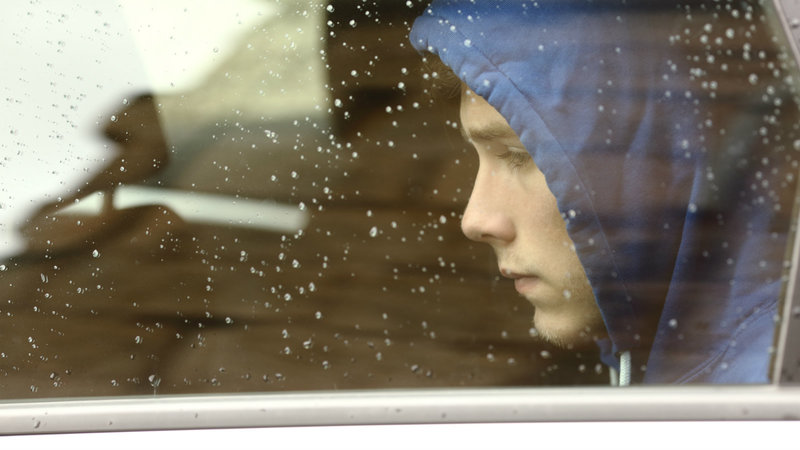 Father's Day gives us stepchildren a peek into a fantasy: happier lives, deeper relationships, warmer memories, cherished photographs lining the walls of social media. Families still together, faithful dads, strong dads, healthy dads, dads who didn't leave, dads who loved their wives enough to keep their families together. We may not have those things. We may have bitterness. Or jealousy. Or loneliness.
On Father's Day, our fantasies can be overcome by the reminders of our step-ness: sermons on the importance of fathers, a mandatory lunch with our dad (or step-dad), a squall of tagged father-child photos, memories of a father's untimely death, all telling us that we're cut in half.
One volume on the subject calls these realities ghosts at our table: "Children are bound to absent parents, adults to past lives, and past marriages. These invisible psychological bonds are the Ghosts at the Table, and . . . they play on the most elemental emotions — emotions like love and loyalty and guilt and fear" (Stepfamilies, 4).
Father's Day can be even lonelier in church. An original, complete, all-the-pieces-included family can feel not only like a status symbol, but also like an access card into community and belonging.
Fortunately, one loving Father meets us in the experience of the stepchild in more ways than one.
1. God untangles our emotional knots.
Growing up, I felt guilty for time spent with my stepfather, because I felt like I was betraying my dad, who did not remarry — as if any fun I might have with my mom's new husband would make my dad feel like a loser. I wanted him always to be certain of my love. Even now, after my father has passed away, I still have an impulse to honor him by resisting any stepfamily enjoyment.
Our stepfamily context can feel a lot like the Wild West, with every son and daughter fighting for themselves, protecting their cherished ghosts. Where does God come into this? God untangles our "mixed families" with three strings: "Let love be genuine. Abhor what is evil; hold fast to what is good" (Romans 12:9).
Let love be genuine. Nobody can replace our biological fathers. Those shoes are forever reserved. But life is still more complex than that: love is powerful enough to grow new relationships in untested soil. You may have looked out over the field of your stepfamily for a decade, never planting a seed of love. It might not look like the gardens that other families have. You don't have to make yourself feel like your step family is your real family. You might feel like a palm tree in a rose garden, but that doesn't mean you have to prune yourself to look like a rose. God can still cause beautiful things to grow in mismatched worlds — grace does its best growing in imperfect, patchwork homes.
Abhor what is evil. It doesn't help us to idolize our fathers, or to demonize our stepfathers. Let us call the hatred and bitterness in our own hearts evil, as well as any manipulation we might receive from fathers, biological or otherwise. Your anger may feel like a strong shield, but it can overcome and destroy you.
Hold fast to what is good. Your memories may be good. Your mother's present love may be good. A good stepfather may be a good gift to your mother. It is a unique, unfair task for us stepchildren to sift through the wreckage of our makeshift family to find the good. If we don't, we may be handicapping our ability to see God's goodness and exercise gratitude in the future.
2. God became a stepchild.
The very first thing we learn about Jesus in the New Testament is that he is a stepchild. Matthew begins with the genealogy of Joseph, who is not called "the Father of Jesus," but "the husband of Mary, of whom Jesus was born, who is called Christ" (Matthew 1:16).
Joseph was a "just man" who placed the honor of Jesus's biological mother and the glory of God above his own social status (Matthew 1:19–20). The Son of God himself grew up with a stepfather.
Once, when visiting the synagogue in "Nazareth, where he had been brought up" (Luke 4:16), the congregation "marveled at the gracious words that were coming from his mouth." They asked about Jesus, "Is not this Joseph's son?" (Luke 4:22). A stepchild knows the feeling — when a stepdad gets credit for a real-dad gift. Jesus knew the awkward, painful realities of being a stepchild (likely they were even more pronounced two millennia ago). He was in that occasion driven out of his home city.
If your experience as a stepchild is full of awkwardness, know that Jesus too had his share of awkward moments as a stepchild. And, like Jesus, the season of living under a man's roof who is not your biological dad doesn't last forever.
3. God won our custody battle.
When God adopts us, he doesn't become our "step" father. He is our real father who has found us after all these years of our running with a false father. God adopts us from our kidnapper, the devil. We were brought up in sin: "You are of your father the devil, and your will is to do your father's desires" (John 8:44).
And yet: "Little children, you are from God and have overcome them, for he who is in you is greater than he who is in the world" (1 John 4:4). I remember when my parents were caught up in a custody battle for my sister and me. They were at each other's throats. They gave us a "court mediator" who was supposed to represent us as children, who had only our interest in mind.
God is the kind of Father whose love is so trustworthy that he can be our Father and mediator at the same time, condemning all claims the devil had over us as our "father." In the devastating wake of custody hearings, God isn't a parent acting against your mom or your dad in the name of "what's best for the child" — he's your Father really acting on your behalf, bringing you into his perfect, self-satisfied love as his real child.
4. God gives his name to the forsaken.
It was odd for my mom to have a different name than me. She wasn't a "Maxwell" anymore. It felt like she wasn't mine anymore. I thought, "Now she belongs with all the 'step' cousins, uncles, aunts, and dad." To have a stepfather is to be left alone with your name in a house that is not really your house.
Stepfathers usually won't understand how to interact with you. It's awkward, but not necessarily anyone's fault. That awkwardness can remind you of what you had lost — not just your father, but the possibility of a complete family. I've spent my entire life anxiously trying to spark relationships, hoping I would find what I lost when I was nine years old.
As Christians, the Spirit gives us this personality tick: we long for the fatherhood of God: "You have received the Spirit of adoption as sons, by whom we cry, 'Abba! Father!'" (Romans 8:15). Our being born again as children of God is the answer to our imperfections (Galatians 4:5), our real family of origin (Ephesians 1:5), and even our death (Romans 8:23).
God gives us his name that will not diminish but grow. He gives us a name that we can share with our whole family, even those with different last names.
5. God is coming to get us.
All Christians are children of God who have been claimed, sitting on the stoop of this evil age, waiting to be picked up by our real dad — waiting for our older brother to bring us to a room he has prepared for us in our Father's house. And that's not a fairytale.
If you're a stepchild on Father's Day, you're not alone. One in three people will be a member of a stepfamily at some point in their lives. Many of us are looking in on together-families, like a dog looking at an apple pie in a bakery window. But more than solidarity with us, you have solidarity with God, the stepchild who is our real brother, who is bringing us back to our real Father.
Take this word with you, from God the stepchild, on Father's Day:
"Let not your hearts be troubled. Believe in God; believe also in me. In my Father's house are many rooms. If it were not so, would I have told you that I go to prepare a place for you? And if I go and prepare a place for you, I will come again and will take you to myself, that where I am you may be also." (John 14:1–3)
God Is Our Home
Stepfamilies are sometimes beautiful reparations for our broken stories, and can fortify our chronic sense of unbelonging. We protect our ghosts and precious memories against the new family possibility that feels uninvited, trouncing on our relics of intimacy, what few we have — unfillable shoes now worn by an incomer, sacred attention now taken by an outsider. When my family integrated, I felt that our "home" had been desecrated.
This is not a new story for the people of God: "Our inheritance has been turned over to strangers, our homes to foreigners" (Lamentations 5:2). God doesn't ask us to pretend tragedy hasn't happened. He enters into it with us. God makes it all the more clear to us that this world is not our home. "Here we have no lasting city, but we seek the city that is to come" (Hebrews 13:14).
And with God as our city, and as our Father, this Father's Day, we go out not merely as the haunted, but as those who belong: "God settles the solitary in a home" (Psalm 68:6).
After rigorously debating the Pharisees over divorce, Jesus's first command was: "Let the little children come to me and do not hinder them, for to such belongs the kingdom of heaven" (Matthew 19:14). None of that is coincidence. There would not be a rigorous debate about divorce between Jesus and the Pharisees if divorce were not prevalent among those people. And if divorce was prevalent among the people to whom Jesus was ministering, you can take this to the bank: many of the children brought to him to be blessed were stepchildren.
Therefore, Jesus's command comes not in the context of ministering only to together-families, or to belonging-children, but to broken families, with children who will have issues with their fathers for the rest of their lives. From one stepchild to another: To such as you belongs the kingdom of heaven.